Polski Uniwersytet
Na Obczyźnie

Zakład Współczesnej
Kultury Brytyjskiej

238-246 King Street
London W6 0RF

tel. +44 (0)20 8846 9305
e-mail: rektorat@puno.edu.pl







Seminar Convenors:

Prof. Michael Fleming and Dr Wojciech Rappak

- [ VISIT OUR FIRST EDITION OF THIS SEMINAR:

H E R E. . .

] -



The seminar takes place at the Polish University Abroad, POSK building, 3rd Floor, 238-246 King Street, London W6 0RF on Wednesdays at 6.15pm.

The seminar will be especially useful for students reading MA or PhD degrees in history or cognate disciplines. All are welcome, but those wishing to participate should contact PUNO or the convenor prior to each seminar as places are strictly limited. Email: PUNO's Office or Prof. Michael Fleming.




2017 / 2018 EDITION










25 October 2017



Zbigniew Siemaszko
Independent scholar

The attitude of Tsarist Russia and the Soviet Union to Poles

On Zbigniew Siemaszko's background and his writing on recent Polish history see: Wikipedia (in Polish)





8 November 2017



Dr Joanna Michlic
UCL

Book launch: Jewish Families in Europe, 1939-Present: History, Representation, and Memory

More information about a recent book edited by Dr Michlic: UPNE





29 November 2017



John Gallehawk

Enigma, Bletchley Park and the Polish connection

John Gallehawk begins our special series on Bletchley Park, the Enigma machine and the Polish connection. Gallehawk is a Bletchley Park Researcher and guide. He is also the author of articles on Bletchley Park and the Enigma machine, published in the Bletchley Park Report. More on: Bletchley Park Research





6 December 2017



Jeremy McCarthy

Marian Rejewski's Cyklometer and its significance to the Allied war effort: How Polish mathematicians used mechanical methods to aid the decryption of the Enigma machine messages in the 1930s.

Our series on Bletchley Park, Enigma and the Polish connection continues with Jeremy McCarthy's talk on Marian Rejewski, one of the Polish mathematicians who deduced the internal wiring of early versions of the Enigma machine used by the Germans in the early 30's. More on Jeremy McCarthy's talk: Computer Conservation Society
And on the Polish mathematicians: Codes and Ciphers





9 December 2017



Field trip to Bletchley Park
(Guide and commentary provided by John Gallehawk and colleagues)

Our Bletchley Park, Enigma and the Polish connection series ends with a field trip to Bletchley Park.





17 January 2018



Dr Helena Duffy
Royal Holloway

History and Fiction: The Ethics of Holocaust Representation in the Postmodern French Novel

The last two decades have seen a proliferation of French Holocaust novels that, additionally, bear the stamp of postmodernism. This means that the works such as Patrick Modiano's Dora Bruder (1997), Pierre Assouline's La Cliente (1998), Jonathan Littell's The Kindly Ones (2006) or Yannick Haenel's Messenger (2010) programmatically problematize the very possibility of acquiring (historical) knowledge, insist upon the subjective, interpretative and (inter)textual rather than empirical nature of History and favour multiplicity, plurality, fragmentation and indeterminacy. Because many associate postmodern art with the deployment of parodic, fantastic or ludic elements, as well as with the questioning and relativisation of Truth, several of the recent French Holocaust novels have become a source of major controversies, frequently attracting criticism from historians. The aim of this talk is therefore to address the ethics of the figurations of the Shoah, whose uniqueness and sacredness for some precludes any experimental or even aestheticizing approaches to its representation. Illustrated with specific examples, my discussion will be informed by theoretical writings of, among others, Hayden White, Linda Hutcheon, Brian McHale and Dan Stone.

Helena Duffy is a Marie Skłodowska-Curie Research Fellow working on a project concerned with the ethics of Holocaust representations in French historiographic metafiction. Prior to her current appointment at Royal Holloway, University of London, she taught French language and literature at other UK universities (Hull, Oxford Brookes), as well as in France (Université Blaise-Pascal, Clermont-Ferrand), Poland (Uniwersytet Wrocławski) and Australia (University of Queensland, University of New England). Her research interests lie in contemporary French literature and cinema, with a particular focus on non-native authors, postmodernism and cultural figurations of the Holocaust. Helena Duffy is an author of over twenty scholarly articles and a monograph concerned with the portrayal of the Great Fatherland War in the oeuvre of Franco-Russian novelist, Andreï Makine.






21 February 2018



Dr Paul Latawski
Royal Military Academy Sandhurst

The Home Army and the Allied war effort

Dr Latawski is a Senior Lecturer in the Department of War Studies at the Royal Military Academy Sandhurst. He is a military historian who has written extensively on military doctrine, exiled armies and the 1944 Normandy campaign. An important focus of his research is on the role of the Polish armed forces during and immediately after both world wars.





28 March 2018



Prof. Carl Tighe
Author of The Politics of Literature: Polish Writers under Communism

Writers and Tradition

Until his retirement last year, Professor Carl Tighe was the head of the successful Creative Writing course at the University of Derby which he established nearly twenty years ago. His The Politics of Literature presented an original study of the way writing during the Communist era was always politically engaged, one reviewer praised his account of a world in which 'literature is politics by other means'. In his more recent Writing & Responsibility Professor Tighe has written on the ethical dimension of writing, on the way the private act of writing can have public consequences, on the specific responsibilities writers have towards their readers as well as themselves. He has also written novels and short stories. For more information on Professor Tighe see Carltighe.co.uk





9 May 2018




Workshop: The Life, Death and Significance of Szmuel Zygielbojm
(beginning at 5pm)


On May 12, 1943 Szmuel Zygielbojm, one of the two Jewish members on the Polish National Council, committed suicide in protest for the lack of any concrete Allied response to the Holocaust. His suicide letter was addressed to the heads of the Polish government, then exiled in London, and through them to all the Allied states and 'to the conscience of the world'. Zygielbojm was a representative of the Jewish socialists, the Bund, and his desperate act was also a tragic act of solidarity, in his suicide note he wrote, 'I cannot live when the remainder of the Jewish nation in Poland, of which I am a representative, are being murdered'. His death was also an expression of solidarity with his comrades who were fighting in the Warsaw Ghetto uprising, then in its final few days.

On the 75th anniversary of Zygielbojm's death, this workshop will include a talk about the many significant aspects of Zygielbojm's life and death, and on the need to guard his memory. He was a Polish Jew, a Bundist and a socialist. He believed that when the war is over Poles and Jews will be able to live together in a 'world of freedom and socialist justice'. His death was an act of protest 'against a world which looked with indifference on the extermination of the Jews'.


Outline programme:


David Rosenberg (Chair, Zygielbojm Memorial Committee)
The struggle to memorialise Szmuel Zygielbojm in London

Dr Wojtek Rappak (PUNO)
Zygielbojm meets Jan Karski

Professor Michael Fleming (PUNO)
Zygielbojm, the Labour Party and the Holocaust

Tea/Coffee

Mieczysława Wazacz (filmmaker)
Zygielbojm's significance: Introduction to the film '˜Mur'
(with English subtitles)

Screening of Mur (Wall), 2007
dir: Mieczysława Wazacz

2016 / 2017 EDITION






3 May 2017



Dr Paul Latawski
Royal Military Academy Sandhurst

1st Polish Armoured Division Operations in Normandy, 8-21.08.44

Dr Paul Latawski'll talk about General Maczek's 1st Armoured Division & its operations in Normandy in critical months soon after the D-Day landings. He will focus on the 1st Armoured Division's key role in the closing of the Falaise Pocket, a battle which brought about a German defeat in the Battle of Normandy in summer 1944.






5 April 2017



Dr Marek Kukula
Public Astronomer, Royal Observatory Greenwich

Life is Astronomical

Astronomy can blow our minds with astounding ideas and beautiful images, but it's also a science that has surprisingly close connections to our everyday lives. Dr Kukula, Public Astronomer at Royal Observatory Greenwich describes some of ways in which outer space has shaped the world in which we live, and highlights some Polish contributions to our understanding of the cosmos.






8 March 2017



Dr Joanna Hansen

Discussion on the Warsaw Uprising of 1944






31 January 2017



Dr Rafał Pankowski (Collegium Civitas, Warsaw)

The Populist Radical Right in Poland






14 December 2016



Dr Katarzyna Zechenter (UCL-SSEES)

The Revival of Jewish Narratives in Polish Fiction after 1980






16 November 2016



Dr Wojciech Rappak (PUNO and UCL)

The Polish Government in Exile and news of the Holocaust






26 October 2016



Dr Agnieszka Morriss (City University, London)

Propaganda through the airwaves: the BBC Polish Service during the Second World War

2015 / 2016 EDITION





11 May 2016



Dr Joanna Beata Michlic (University of Bristol)

Rescuers of Jews in Poland: History and Memory.






4 May 2016



Jarek Garliński (prize-winning translator)

The Sikorski-Maisky Pact of July 1941.






6 April 2016



Dr Andrea Mason (LSE)

The Flight of Stanisław Mikołajczyk and Maria Buyno: The Conclusion of Britain's Commitment to Poland






9 March 2016



Professor Michael Fleming (PUNO)

Resistance and Revolt at Sobibór






17 February 2016



Dr Ursula Phillips (UCL SSEES)

Zofia Nałkowska as a Critic of Polish Reality.






16 December 2015



Agata Błaszczyk, Polish University Abroad [Agata Blaszczyk jest też członkiem Young Academic Networks Foundation for European Progressive Studies - Bruksela, i pracuje nad opracowaniem zbiorowym Belonging in Europe: legal and political perspectives.]

The Committee for the Education of Poles in Great Britain (1947-1954). The experience of British migrant settlement policy.






25 November 2015



Dr Joanna Rzepa (Early Career Fellow at the Institute of Advanced Study, University of Warwick)

Transmission and Translation of Holocaust Literature: The Curious Case of Jerzy Andrzejewski's 'Apel'






28 October 2015



Professor Marek Wierzbicki, Institute of National Remembrance (IPN), Radom.

Forgotten heroes of Solidarity - the youth political opposition in communist Poland during the 1980s

2014 / 2015 EDITION






22 October 2014



Roch Dunin-Wąsowicz (PhD candidate, London School of Economics)

The Rainbow is burning: Analysing public art as the locus of the Polish symbolic conflict over LGBT rights, the nation, and Europe






5 November 2014



Dr Alexander Watson, (Lecturer in History, Goldsmiths College, University of London)

Forging a Nation, Breaking a Community: Cracow at War, 1914-1918






26 November 2014



Dr Janina Struk [freelance photographer, lecturer, writer and author of Photographing the Holocaust: Interpretations of the Evidence (IB Tauris, 2004) www.janinastruk.com]

Photographing the Lodz ghetto: Interpreting the evidence.






3 December 2014



Łukasz Krzyżanowski (PhD candidate, University of Warsaw)

Recovering private Jewish property in Polish courts, 1945-1948






10 December 2014



Dr Piotr Goldstein (Independent Researcher)

Polish Civil Society after 1989: New phenomenon or new developments?






4 February 2015



Izabella Goldstein (PhD candidate, University of Manchester)

The music of the Jewish underworld in pre-World War Two Warsaw: Preliminary findingse






25 March 2015



Dr Hubert Zawadzki (FRHistS; author of A Man of Honour: Adam Czartoryski as a Statesman of Russia and Poland, 1795-1831; co-author (with Jerzy Lukowski) of A Concise History of Poland)

'Invasion, Deportation and Survival: a Polish Woman's Epic Wartime Story 1939-45'






22 April 2015



Dr Wojciech Rappak (University College London)

'Lanzmann's Shoah and the Karski edit'

--

"Shoah", part 2: here...






6 May 2015



Jakub Motrenko (PhD candidate, University of Warsaw)

'Sound Science or Junk Science: Polish Sociology facing the Solidarity Movement (Solidarność)'



Prof. Michael Fleming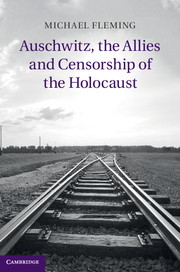 Biographical Note:



Michael Fleming is a professor of history at the Polish University Abroad, London. He is also the conference secretary to the Institute for Polish Jewish Studies. He has previously taught at Jesus College and Pembroke College, Oxford University, and has been a visiting researcher at the Pułtusk School of Humanities and at the Institute of History, Polish Academy of Sciences in Warsaw. In 2011, Fleming was a co-winner of the Aquila Polonica Prize. His current research examines Polish intelligence on the Holocaust. His most recent book is

Communism, Nationalism and Ethnicity in Poland, 1944-1550

(2010, Routledge).



CONTACT:

E-MAIL




Polish Embassy in London hosted a launch for Professor Michael Fleming's book "Auschwitz, the Allies and Censorship of the Holocaust". Visit Embassy website for details: Here...

In 2015 Professor Michael Fleming has been awarded with the Kulczycki Book Prize in Polish Studies for the best book in any discipline, on any aspect of Polish affairs, published in the previous calendar year.




You can also buy prof. Fleming's book here: Auschwitz, the Allies and Censorship of the Holocaust